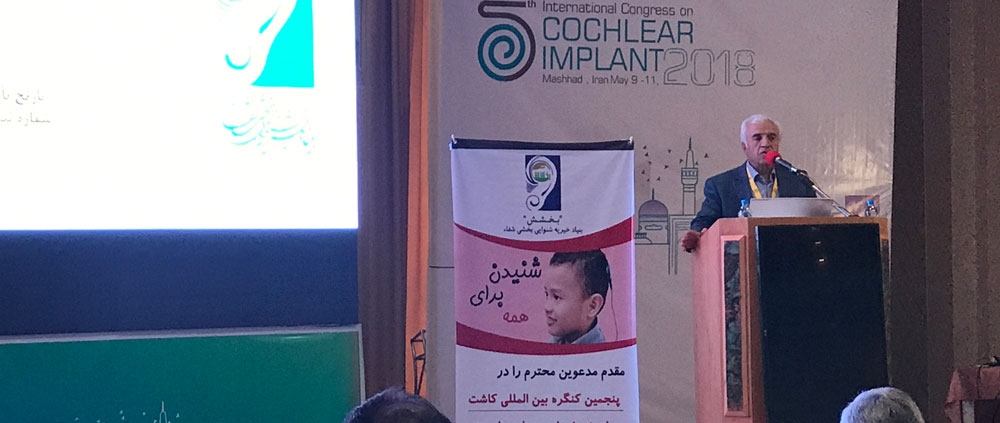 Dr. Mohammad Taghi Khorsandi Ashtiani (chief of the board of directors of "BAKHSHESH") interview:
The individual will return to his real and original life and shall become a successful and creative person by getting a cochlear implant.
The first cochlear implantation surgery in Iran was preformed 26 years ago.
Iran enjoys the best quantity and quality of cochlear implantation among the Middle East countries and is first in the rank when it comes to implantation results.
A cochlear implant is in fact a transitional experience and a turning point in the lives of deaf individuals.
Due to various reasons, deafness is unfortunately more common in underprivileged or indigent families.
A deaf person is often isolated and depressed, even aggressive and bad tempered. Prevention in order to decrease the number of deaf people, is the most important principle and the cheapest way with minimum cost which is an important goal of "BAKHSHESH".
https://bakhshesh.ir/bakhshesh_uploads/2018/07/news-bakhshesh-9.jpg
600
1000
بخشش
https://bakhshesh.ir/bakhshesh_uploads/2022/08/logo-bakhshesh-en-2.png
بخشش
2018-06-09 19:13:58
2018-07-24 19:14:27
DR. Mohammad Taghi Khorsandi Ashtiani (chief of the board of the directors of "BAKHSHESH") interview in the Fifth International Congress on Cochlear Implant in the Holy city of Mashhad